My Tribute to Talk Talk & .O.Rang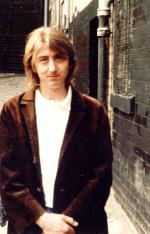 MARK HOLLIS
This site is dedicated to all the fans of Talk Talk & .O.Rang all around the world.
TALK TALK
I've been a fan of Talk Talk since 1984 when I first heard "It's My Life" on the radio. Before that I saw the video for "Such a Shame", but at the time I didn't know who Talk Talk were. Ever since then I've been hooked.
I guess the reason why I like Talk Talk's music, is the songs are very poetic and the music just hits me. Whenever I was going through a rough time I'd pop in Talk Talk, and the music just enlightened me. In a way some of their songs are spiritual to me, and I'm not a religious person.
The members of Talk Talk were: Mark Hollis (vocals, guitar, songwriter), Paul Webb (bass, vocals) and Lee Harris (drums, vocals). My favorite member of the group has to be Paul Webb, because he's a great bass player and he's very cute. He's up there with Paul McCartney and John Entwhistle as a great bass player in my opinion. I wish I could have seen him play bass in concert.
I had a brush with fame because of Talk Talk. I used to listen to this radio program called, Rock Over London, and they took listeners requests. Well, I decided to write to them and I requested, "Such a Shame." And I wrote that that song was my favorite song, and I was the number one fan of Talk Talk. Well, all day that the show was going to be on they said a local girl was going to be mentioned on the show, and I flipped. My request was going to be read on the air. My parents let me stay up for the show, because it was on at 10pm, and I taped it for everyone to hear. Graham Dean was the host, and I still remember him calling me, "Molely Fanton". I still have this show on tape. I'll never forget that day for the rest of my life.
Sadly, Talk Talk broke up around 1992, so there won't be anymore new material out by Talk Talk. But Mark Hollis has recorded a self titled album, and Paul and Lee formed a group called, .O.Rang.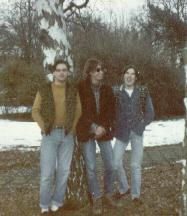 PAUL WEBB, MARK HOLLIS, LEE HARRIS
.O.Rang
I just started to listen to their music only two years ago, when my sister bought, "Fields & Waves" for me when she went to England. After I heard their music I was hooked. If you like Talk Talk, you'll like them.
I would describe their music as ambient jungle music. Whenever I hear any of their songs I just get into a very relaxed state. I'm not really into techno, but when I heard them i just flipped.
I've never heard Paul Webb sing, except for backing vocals. It really surprised me how a great singer he is. He sort of sounds like Mark, but his voice has a gentler quality to it. It still blows me away when I hear his voice.
I wish .O.Rang was more popular here in the USA. I mention their name, and people go, "Who?" I know if I had a radio show I'd play their music, because it deserves airplay.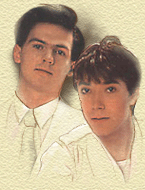 PAUL WEBB & LEE HARRIS
Top Five Favorite Songs By Talk Talk
Such a Shame
Life's What You Make It
Living In Another World
Talk Talk
Dum Dum Girl

Click to subscribe to spiritoftalktalk
My Talk Talk Links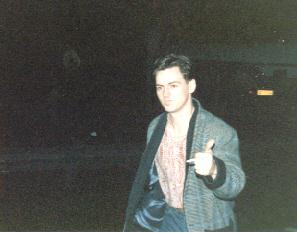 PAUL WEBB
If you have any questions, please e-mail me at this address.
thenewwavequeen@earthlink.net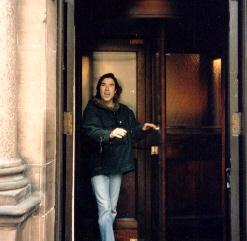 LEE HARRIS
SiteRing by Bravenet.com
Photos on this site are the property of Paul O'Flynn, copyright 2003